This is my story that was written by Lindy Schneider and some of the photos by Angela Rivas:
SHLOMIT MORIA
Sculptor
The art that lives inside us has no sense of time and cares little for the age or stage of life we are at. Art cares only that there is expression and, while 'she' — the artist — may live quietly for years under the skin, one day there comes a point where there are no more reasons to keep her inside. For Shlomit Moria, that day came in mid-2015 — a moment of pure reckoning about what would make her truly happy as she contemplated what the 'second half' of her life story could be.
'I was tired of being poor. I started to throw myself into building my graphic art business, promoting myself, and putting client packages together. But when I was honest with myself, I realised I didn't have any passion for that and I was getting more and more depressed. I asked myself what I really wanted to do … sculpt. The answer was immediate and my heart lifted.'
Shlomit realised one simple truth: 'I can get by with nothing — so I might as well do what I love.' And what she had always loved, even as a child, was three-dimensional art.
'My need to sculpt was greater than my fear. But I knew nothing about the skills I needed, or the tools I should have. I just knew that I could do it and I needed practice. So, I gave myself the gift of time.'
Shlomit asked for help. She approached several woodworkers and metal crafters in the valley to ask if she could observe them working, with mixed reactions. 'My interest in these crafts as a woman was for some an amusement and for others an irritation, but a couple of men saw my persistence and took me seriously, and I am incredibly grateful for that.' One man, in particular, opened the doors of his workshop at the business incubator in Warburton (run by the Yarra Ranges Enterprise Centre to support new business development), inviting Shlomit to spend as much time there as she wanted. 'I went to work with him for two or three days each week. It was like being an apprentice. He explained the tools to me as he used them, and I watched his ways with the wood. Little by little I took on tasks and found my own way.'
Today, that workshop is Shlomit's own studio, and the home of Bushwood Creations. With Mt Donna Buang watching her back, Shlomit marvels at how quickly her sculpture life has come together and how genuinely supportive people are. As she has become known, or —as Shlomit reflects — been taken seriously, locals in the community have started to drop by, sometimes for a chat, often times to bring her a tool they no longer have use for or an interesting piece of timber she can turn into one of her unique creations. She is earning her place.
'Every piece I do is an experiment right now. A piece of wood will tell me what it wants to be, but often I have no idea how to go about it, so I ask questions and let the timber tell me what to do. I'm trying to learn more about proportions. Slowly that's evolving into a style, but I want to stay open to possibilities and hold true to an ethos I have that each piece I make brings a sense of happiness with it. And I've never been happier in life than I am now.'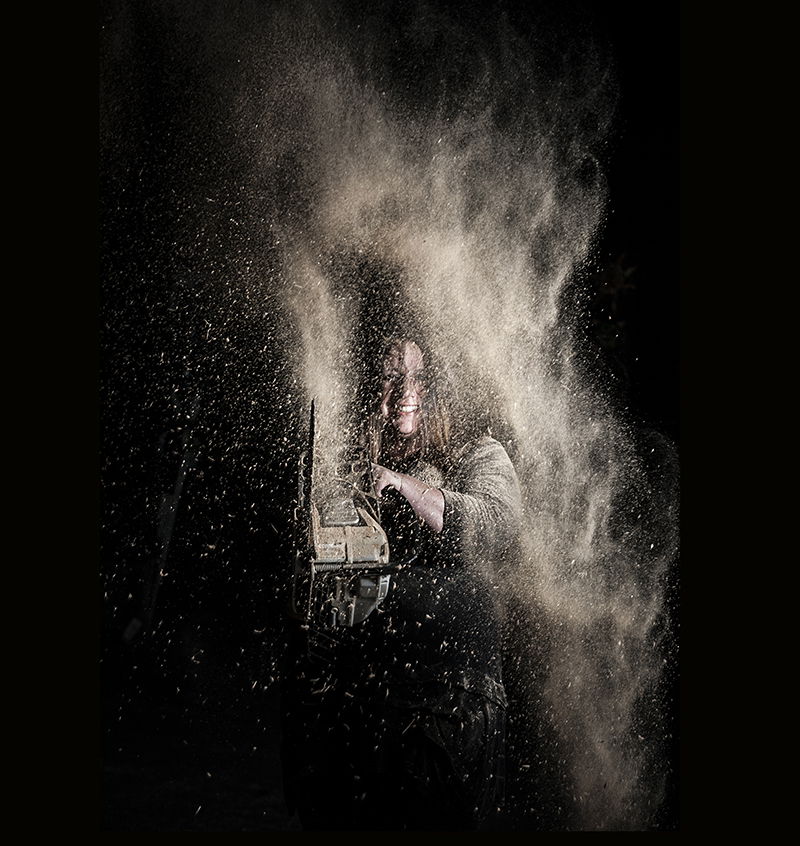 Shlomit has now carved her way into an Etsy shop (her $20 magic wands are a mainstay of her business), attends weekend markets and sells her creations through the local Warburton Handmade as well as taking private commissions. She has exhibited her work locally.
Her work as a woman sculptor has a softness despite the hardness of her chosen materials. 'I think my sculptures differ in a number of ways. I don't know if it is because I'm a graphic artist by training (Shlomit did a four-year degree in animation and illustration in Israel and wanted to work for Pixar), but I tend to finish things in a very refined way. I also make things that carry the feminine and are quite flowing in shape.' Carved angel wings, mushrooms, owls, tiny villages emerging from tree stumps, masks, goddesses and animals have all found their way out of the timber via Shlomit's hands.
Warburton has been home for Shlomit and family (she has a husband and two children in primary school) for more than 13 years, and it is now — as she works so closely with timber — that she can see why the move felt so essential. Surrounded by the source of her art and inspiration has strengthened her understanding that this is what she is here to do.
Shlomit's travels have taken her to many places in her search for the sense of community she has now. Born in Israel, she left home at 15 and spent two years living on the streets, building resilience and self-determination — qualities she has drawn on as she has made her way into the 'man's world' of wood. After a compulsory period in the Israeli Army, Shlomit found herself working in the Ukraine, Azerbaijan and Kazakhstan teaching Hebrew to hopeful emigrants. Then, in her twenties, Shlomit travelled extensively; two countries in particular define her today — India and Australia.
In India, second home of her soul, Shlomit found herself living in a small stonemasons' village, sitting cross-legged on the floor learning stone-carving skills from a local mason. Her first sculpture was a Buddha, made in the first few days of that two-month period, which still graces the altar at the home that gave her shelter. She travelled alone — like a warrior princess — from the west to the east of India, through the desert on a custom-made Vespa with a side car, followed by shocked looks that a woman would do such a thing. 'Crossing the line' has been fundamental to her forming: 'All these experiences taught me not to walk in the shadows. I was in some dangerous places at times and people left me alone — my punk clothes might have had something to do with that — but the real lesson was to be brave anywhere I go.'
Shlomit first arrived in Australia as a backpacker with $10 in her pocket. She spent six months exploring before returning to India where she met Edo, her husband. Inspired to make a life together in Australia, they returned to Israel, where Shlomit spent four years studying for her degree and gaining the work history they needed to emigrate. Her permanent residency came through one month before her thirtieth birthday. Soon after, she discovered Warburton after a Vipassana retreat in Woori Yallock — and fell in love immediately.
'No one can teach you how to carve with a chainsaw or how to let the timber tell you what it wants to be,' she says. 'It's been a very big transition for me to ask for help — I could never do that in the past ­— but I realised I needed to trust myself and move my butt if I wanted to realise myself as a sculptor. I've also accepted it's okay to want to prosper and be in a comfortable place. It's been healing that way.'
Shlomit's sculptures can carry something of a healing for others too. In a backyard in the eastern suburbs, there stands a five-and-a-half-metre goddess sculpture she calls Dancing Woman. A commission to turn a scarred tree trunk into something beautiful, Shlomit used both chainsaw and chisel to create a lasting reminder of the immensity of feminine power and endurance. In the process of carving, the tree evolved from being a weeping angel to something that now brings happiness to the patron, a woman also going through a similar transition.
'My work is based on the philosophy of salvage, restore and recycle. I love living in a community where sustainability is a choice people make in daily life. I love nature and, while sometimes I feel like the only woman doing this kind of art, I can connect with an international tribe of women woodworkers through Facebook, and that is sustaining. I go to sleep thankful and wake up the same way.'
Tree stumps talk to Shlomit on her morning walks along the edge of the Yarra River in Warburton. 'They want to become permanent sculptures and tell stories for the world to see,' says Shlomit, 'and I really ache to create something for my home town.
'My heart would break if I had to walk away now. I've finally recognised my hands are a gift and that it's never too late to embrace the artist within you and shape your own existence,' she continues. 'Don't let fear determine what you can or cannot do.'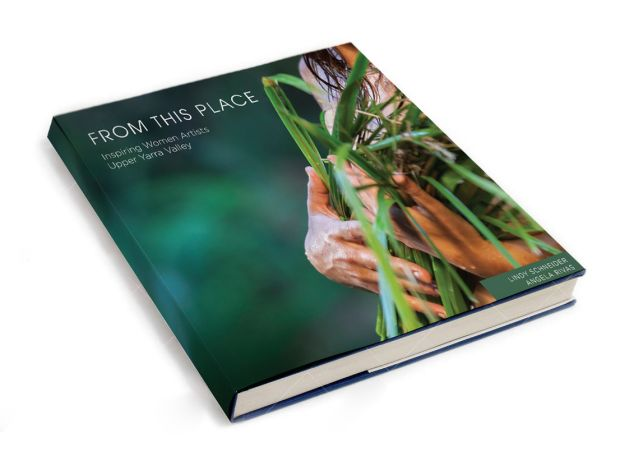 More about the book and where to purchase: http://fromthisplace.net